Foster Pups
Welcome To The Foster Pups WebSite
This is the place where you will find helpful information along with suggestions and advice shared by other Foster Parents.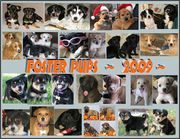 Explore The New Website!
Take some time and check out all the different areas of the website. Use the links at the left of the page to navigate directly to a page.
And remember to check back often
as we update and add even more useful and valuable information.
Need some extra help finding things on the new site? Here are a few shortcuts that may be helpful.
Monroe County Animal Shelter
170 Kefauver Lane
Madisonville, TN 37354
423 442-1015 E-Mail monroecountyanimalshelter@yahoo.com
~ Shelter Hours ~
Tuesday-Friday 10 am-5 pm
Saturday 9 am-1 pm
Visit our booth at the Sweetwater Flea Market on Saturdays and Sundays!

Check Our Shelter Animals Here:
Monroe County PetFinder Website
~ Adoption Fees ~
$85 for cats and kittens and $95 for dogs and puppies.
All adoptions will now include spay/neuter, age appropriate vaccination, 1st worming, rabies, un-registered microchip for every pet and engraved ID tag for dogs and puppies. Chips and tags will now be purchased by the county.



M.C.F.A. Monroe County Friends of Animals
P.O. Box 106 - Vonore, TN 37885
www.friendsofanimalsmc.org History Page
Emergency Phone Numbers
Tellico Bay Animal Hospital, Vonore ~ Dr. Gobble 423 884-3646
Monroe County Animal Hospital, Sweetwater ~ 423 337-7432
Emergency Procedures When Fostering
CLICK HERE
* If you have any comments or suggestions for the website, please send an E-mail or click the link below!